With many different versions of C++ available (C++98, C++03, C++11, C++14, C++17, etc…) how does your compiler know which one to use? Generally, a compiler will pick a standard to default to (often not the most recent language standard). If you wish to use a different standard, you'll have to configure your IDE/compiler to do so. These settings are applied to the active project only. You need to set them again when you create a new project.
Code names for in-progress language standards
Note that the language standards are named after the years in which they are finalized (e.g. C++17 was finalized in 2017).
However, when a new language standard is being agreed upon, it's not clear in what year the finalization will take place. Consequently, in-progress language standards are given code names, which are then replaced by the actual names upon finalization of the standard. For example, C++11 was called c++1x while it was being worked on. You may still see the code names used in places (especially for upcoming version of the language standard, which won't have a final name yet).
Here's a mapping of code names to the final names:
c++1x = C++11
c++1y = C++14
c++1z = C++17
c++2a = C++20
For example, if you see c++1z, this is synonymous with the C++17 language standard.
Setting a language standard in Visual Studio
As of the time of writing, Visual Studio 2019 defaults to C++14 capabilities, which does not allow for the use of newer features introduced in C++17 (and C++20), some of which are covered in future lessons.
To use these newer features, you'll need to enable a newer language standard. Unfortunately, there is currently no way to do this globally -- you must do so on a project-by-project basis.
To do so, open your project, then go to Project menu > (Your application's Name) Properties, then open Configuration Properties > C/C++ > Language.
From there, you can set the C++ Language Standard to the version of C++ you wish to use.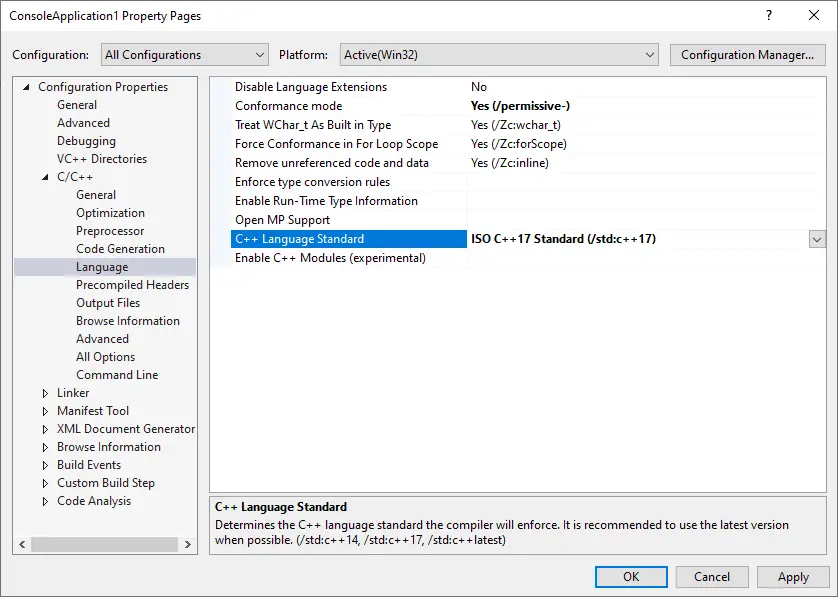 As of the time of writing, we recommend selecting "ISO C++17 Standard (/std:c++17)", which is the latest stable standard.
If you want to experiment with capabilities from the upcoming C++20 language standard, choose "ISO C++ Latest (/std:c++latest)" instead. Just note that support may be spotty or buggy.
Setting a language standard in Code::Blocks
Code::Blocks may default to a pre-C++11 language standard. You'll definitely want to check and ensure a more modern language standard is enabled.
The good news is that Code::Blocks allows setting your language standard globally, so you can set it once (rather than per-project). To do so, go to Settings menu > Compiler:

Then find the box or boxes labeled Have g++ follow the C++XX ISO C++ language standard [-std=c++XX], where XX is 11, 14, or some other higher number (see the items inside the red box below for examples):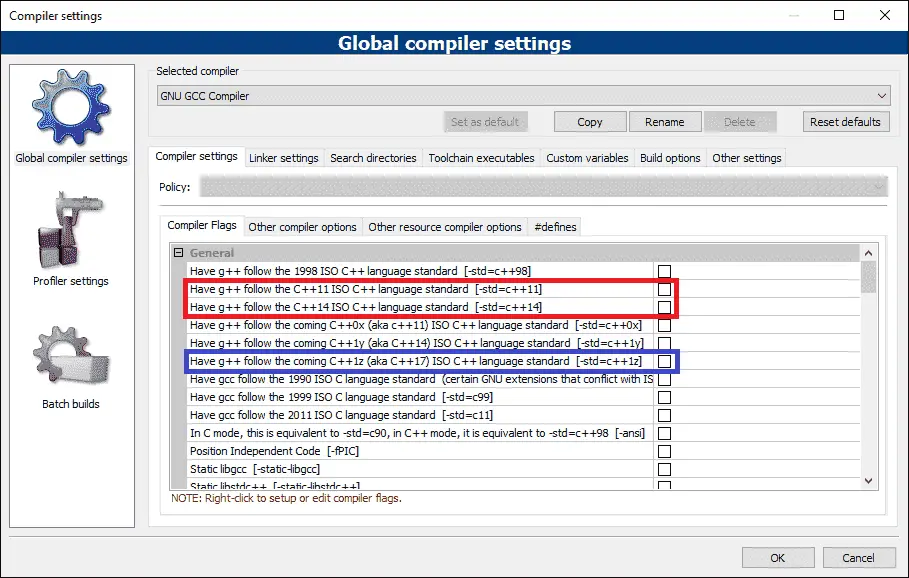 Check the one with the highest number (in the above image, that's the C++14 option inside the red box).
Your version of Code::Blocks may also have support for upcoming (or just released) versions of C++. If so, these will be labeled Have g++ follow the coming C++XX (aka C++YY) ISO C++ language standard [-std=c++XX] (see the blue box above). You can optionally check these if you would like to enable features added in that version, but note that support may be incomplete (e.g. some features may be missing).
See the list at the top of the lesson for a list of codenames to language standards mappings.
For example, if you want to enable C++17 capabilities and your settings doesn't have a C++17 option, look for -std=c++1z (the code name for C++17).
Alternatively, you can go to the Other Compiler Options tab and type in -std=c++17.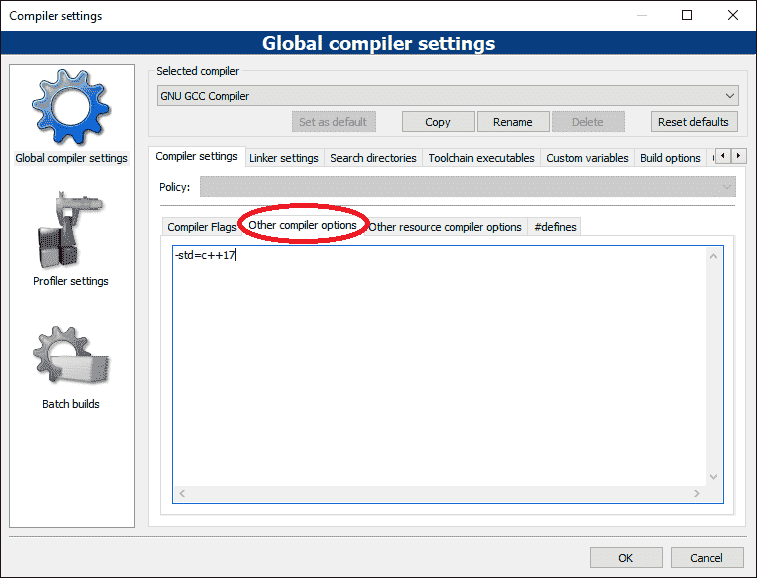 No title
This will work if your compiler has C++17 support. If you're using an older version of Code::Blocks and C++17 features don't seem to work, upgrade your compiler.

Setting a language standard in g++
For GCC/G++ users
For GCC/G++, you can pass compiler flags -std=c++11, -std=c++14, -std=c++17, or -std=c++2a to enable C++11/14/17/2a support respectively.